Eliminate Bunions Without Surgery
If you're reading this, chances are you suffer from mild or severe bunions.

The result? Your bunions are swollen, sore, and painful.

Long-term, this can lead to arthritis, intense chronic pain, and even high-risk surgery.

Using the power of Adjust180°, the ToeHero reverses your bunion growth which will eliminate your pain and shrink bunions in your sleep!
Breakthrough Discovery
You've probably tried several other bunion corrector products that promise the world and fail to deliver. And I'm here to tell you it is not your fault that you're still in pain.

Those other devices usually target one element of bunion pain relief.

This is great in providing short-term relief, but does not fix the underlying root cause of bunion growth and intense pain.

After three years of prototypes and $112,000 spent in laboratory testing, we stumbled upon the breakthrough combination of:
- Customized Tightness & Fit,
- Medical Grade Silicone Cushioning,
- Painless Adjust180° Straightening

Targeting all three elements of bunion pain was the secret sauce that results in the instant pain relief & bunion straightening.
78% More Effective In Eliminating Bunions 
This breakthrough combination causes the foot joints that created the bunion to reset and return to a relaxed state.

Then, the Adjust180° knob system will re-align the bunion comfortably and painlessly.

This combination:
- prevents the bunion from growing further,
- shrinks bunions overtime,
- reduces swelling & redness,
- and floods the bunion area with nutrient and oxygen rich blood.

The result is instant relief from bunion pain and a device 78% more effective than the leading competitor.

With consistent use damage is reversed, providing long-lasting bunion straightening.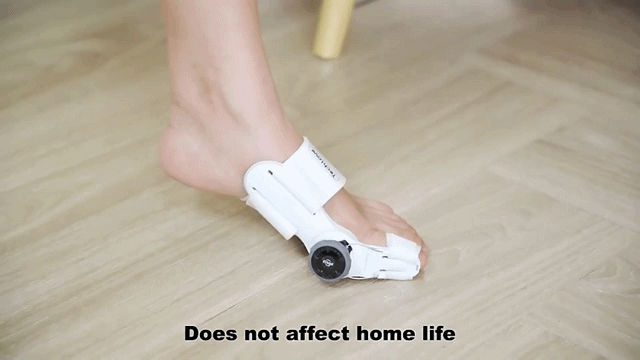 Professionally Designed & Recommended
Podiatrists aren't always in arms reach.

The ToeHero has been designed and recommended by podiatrists as an effective way to get pain relief when you need it most.

For less than 1/5 of the cost of one therapist treatment, you can get results that last a lifetime.
Fantastic Quality Of Life
Bunion pain can wreak havoc on your life. Everyday activities are a constant reminder of the pain you constantly feel.

Imagine seeing your bunion shrink to half it's size…
And stop growing…forever.

Would you be able to finally walk without pain & discomfort?

How about taking off your socks without feeling ashamed?

And finding shoes that finally fit properly?

Today, you have the power to make a change. You can finally get back to living again.
Real Success Stories
Stop letting bunions dictate your life, take action and join our pain free customers today!

Just read some emails from our customers:

"My husband has severe bunions. We have tried several things and nothing worked or felt comfortable. The first time he put on the device, he said he could feel and see the difference. We got this several months ago and are seeing some results! I wish we would have purchased it years ago."

"I bought 2, one for my husband and one for me, pain relief is instant! We've been using this at every night for a month now while sleeping and our bunions look better!" 

"I have it for a month now and it's prevented the progression of my bunions! It's much more rigid and firm structure than the gel pads that are usually used."
Frequently Asked Questions
How do I use the device?
The ToeHero is one-size fits all, so it fits feet of all types. If you're not happy with your experience for any reason, all you have to do is contact us within 30-days. We'll be happy to send you a replacement for free, refund your order, or help with any problem you may have.
What if it doesn't work for me?
Our device comes with a 30 Day Risk Free Guarantee. We're incredibly confident you'll get relief from your bunion pain and soreness with our device, but if you don't, please contact us within 30 days of receiving the product, and we'll issue you're full refund.
How long until I see a noticeable difference in my bunions?
It takes about 2-3 months to see a difference. Customers reported that after using it consistently for 6 months, they have seen massive improvements. And all you have to do is put it on while you sleep!
How long until I feel relief from bunion pain?
Instantly! Our adjustable bunion corrector will provide instant relief from bunion pain the first time you use it. With consistent use, you will gain benefits that last a lifetime.
When do I use it?
It is most effective when used while sleeping at night. Although it can be worn barefoot, we do not recommend wearing it while walking for long periods.
Is there a left and right side?
No there are no sides! You can use one for your left or right foot interchangeably. However, if you have bunions on both sides, we recommend to get two for both feet.